Miss Dynasty Cotillion and Poppy Ingridia Gershawn
(roles originated by NY drag legends Brita Filter, Alexis Michelle, and Heidi Haux)
are more than just drag royalty; they're also fierce competitors, and lifelong frienemies. But on the final night of the 23rd Annual US Open…Legs Drag Pageant, just ten minutes before the show's crowning ceremony, their fake friendship falls in jeopardy when Dynasty's rare and extremely expensive lace front goes missing and it's up to Poppy to prove that while she's snatched a crown or two in her time, snatching another queen's wig is another matter entirely.
Will Poppy's fake name be cleared? Will the culprit be apprehended? Will the crowning ceremony still go on as planned? And will there be more double entendre jokes than you can shake a limp noodle at? The answers to these questions, and many, many more, may or may not be answered during the fifteen minute run of Rags to Bitches, but one thing is for certain;
it's going to be a battle of wits and wigs!
Come Out With Plays Festival presented by Come Out Pride, Orlando, FL, October 2018
Spectrum: LGBT New Play Festival, Funky Little Theatre Company, July 2017
Finalist, Between Us Productions Take Ten Festival, December 2016
Left Coast Theatre Co., San Francisco, CA, October – November 2016 (Chris Maltby, Dir.)
Award Winner! Winner, Best Short Play at the Downtown Urban Theatre Festival, May 2016
Downtown Urban Arts Festival, New York, NY, April 2016 (Kristin Dausch, Dir.)
MTC Manhattan Theatre Club Finalist, April 2015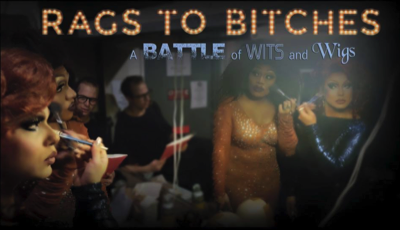 "During these tense, angst ridden days… we can use some belly-laughs which Jameson's play gave us with "Rags to Bitches": Rival transgender divas—Poppy played by Neil Higgins, and Dynasty, Connor Fatch—vie for the prize, a blonde wig is stolen and returned."