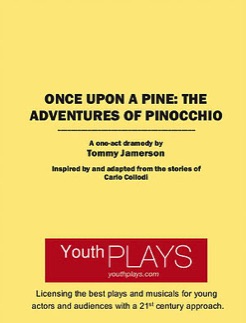 (available as one-act and full-length versions)
The world's most beloved puppet comes to life in this humorous and heartfelt adaptation of the Carlo Collodi classic.
Geppetto, a lonely toymaker, longs to have a child to call his own. But he soon gets more than he bargained for when Pinocchio—a marionette carved from an enchanted log—springs to life before his eyes!
Filled with memorable characters and magical adventures,
reminds audiences of the importance of love, friendship and honesty.
And that's no lie.
Waukee Community School District, Waukee, IA, January 2020
Launceston Youth Theatre Ensemble, Orford, Tasmania, Australia, December 2019 (Jane Johnson, Dir.)
Flower Mound High School, Flower Mound, TX, October 2019 (Scott Taylor, Dir.)
Paradise Valley Community College, Phoenix, AZ, June 2019 (Christopher Scinto, Dir.)
Marshall County Arts Commission, Benton, KY, April 2019 (Leiren Jackson, Dir.)
Norwood School, Bethesda, MD, November 2018 (Emily Nichols, Dir.)
The Langley School, McLean, VA, November 2018 (Joanna Edie, Dir.)
Published through YouthPLAYS, May 2018
Community School for The Arts, Terre Haute, IN, August 2017 (Susan Monts-Bologna, Dir.)
Award Winner! Vonnie Award Winner for Best Show, Best Ensemble, Best Choreographer, Best Graphic Design, and Best Properties Design, May 2016
Dance Center and School of Performing Arts, Baton Rouge, LA, May 2016 (James Winter, Dir.)
Impact Church, Denham Springs, LA, April 2016 (James Winter, Dir.)
Vonnie Borden Theatre, Lafayette, LA, April 2016 (James Winter, Dir.)